It's that time again! Time for my favorite products of the year! Wooo! This is starting to be my favorite post of the year because it's fun to think about which products worked the best for me all year, and which of those I happened to discover through subscription boxes! (Turns out a lot of them!) I'm playing with the idea of making a YouTube video of this post next year but I thought that would be a really long video to start out our Boxy Ladies YouTube channel with this year. So… stay tuned for more reasonably long videos coming soon. 🙂
And it's possible I should have split this post into a few but we'll consider that for next year also. But for now… check out my favorite products in Skincare, Makeup, Tools, and Hair now!
Skincare:
Julep What Your Skin Needs ($28): I received this treatment oil "milk" serum in Julep's Maven box and it's one of the biggest game-changers in my skincare routine. You use just a couple drops of this and it sinks into skin so quickly. Sometimes I use this alone before a regular serum and moisturizer, and sometimes if I am feeling less high maintenance, I use it directly before my Bare Minerals Complexion Rescue. This is a great product that I receive an excellent deal on in conjunction with the Julep Maven program. (Julep has been releasing more makeup and skincare products lately over just nail polish like they used to. January might be a good time to check them out! Click here!)
Ole Henricksen Truth Serum ($48): This is pretty much my go to serum when I'm not testing serums in subscription boxes. I'll use this one over the Julep What Your Skin Needs. I've always been a big proponent of Vitamin C in skincare because of its brightening qualities and this is the product that made me a believer. My skin never looks better when I'm using it consistently.
Belif The True Cream Aqua Bomb ($38): I learned about this product via a Play! by Sephora box. This is another one of those gel-cream hybrids (you've probably noticed that I really love those) and it's awesome. My skin feels super hydrated and the gel/cream feels kind of "bouncy." It's fun to apply and my skin feels amazing.
Korres Wild Rose + Vitamin C Advanced Brightening Sleeping Facial ($48): I started using this a few years ago and I've bought this a couple different times. I stopped using it several months ago and just picked it back up a few weeks ago and I don't know why I put it down! First, I LOVE its strong rose scent. If you don't love rose scents, this WILL NOT be for you. But I feel really rich when I put this on, for some reason. Like Lisa Vanderpump must DEFINITELY use this. I also think my skin is more hydrated and looks brighter when I use this consistently, so I'm going to make sure this goes in my regular rotation again!
Clinique All About Eyes Rich ($32-$53): This is another one of those products that I've had for awhile and loved and somehow got moved to the back of my (vast) product closet. I'm glad I rummaged this back out because I REALLY LOVE IT. The skin around my eyes is super sensitive and tends to burn with a lot of creams. So I was looking for something SUPER RICH and this delivered. It might be a little TOO rich for under makeup during the day, but I've been using this at night and the skin around my eyes feels super moisturized and not dry at all in the morning. Score.
Olay Regenerist Luminous Dark Circle Correcting Hydraswirl ($24): I first received this in a Target Beauty Box and started using it during the day under makeup and it worked really well! I like that it's not too thick but it has a little shimmer in it to combat dark circles which I think works well under concealer.
Clinique Turnaround Daytime Revitalizing Moisturizer in Golden Glow ($38): I discovered this via a sample that I randomly threw in my travel bag. I noticed that when I applied it, my skin looked so radiant. It took me far too long to realize that it's slightly tinted yellow and has shimmer in it. But neither of these things are obvious. It looks great under light makeup and alone, if you are having an awesome skin day. This is also oil-free, but doesn't feel like it. Meaning, my skin still felt properly moisturized but it was super light.
Makeup:
Bare Minerals Complexion Rescue Tinted Hydrating Gel Cream ($29.50): This stuff is the bomb.com. Seriously. There aren't many products that I buy more than once and I have bought this at least three times. There aren't many makeup products that actually make your skin better but I feel like this is one of them. I feel like I need less of it the more I use it. It's not full coverage but once you feel the consistency, it gives you more coverage than you would think. I use a little powder on my nose around midday (My nose gets red, I don't know why. Genetics?) but otherwise it lasts decently long.
Tarte Amazon Clay 12 Hour Full Coverage Foundation SPF 15 ($39): I have to admit, I didn't try a new full coverage foundation this year but that is because this one is still my jam. Maybe in 2016, I will attempt to try something new but with this and the Bare Minerals Complexion Rescue Tinted Hydrating Gel Cream, it will be hard. CHANGE IS HARD, Y'ALL. HARD. (PS: I grabbed this pic from QVC.com because they are a great place to pick up awesome Tarte sets. They often offer great products with brushes for really reasonable prices. And sometimes they even have exclusive products. I love my Sephora, but QVC can be pretty legit when it comes to Tarte!)
NARS Dual Intensity Blush in Frenzy ($45): I got this blush in a gift bag for Press at The Makeup Show Dallas. (I'm kind of a big deal, y'all. Press.) I had always loved NARS blush in Orgasm but I have been using this one for months and I love it. I swirl the blush between the two colors and I get a really radiant color that I love. It's expensive, but blush is one of those things that sort of lasts forever. So I feel like I will have this for at least another year, so after that year, I will totally pay real money for this.
Benefit Roller Lash Curling and Lifting Mascara ($24): If you've read this blog at all, you know I love this mascara. I think I mention it at least once per post. (Somehow I manage to do that even if the post isn't about mascara. How do I even do that?) It's fantastic. I really love it. I learned about it via subscription boxes and I had to break my Only Drugstore Mascara Rule because this stuff is so awesome. I think its curling properties are kind of ho-hum but I just really love its lengthening and separating properties.
Too Faced Better Than Sex Mascara ($23): I received a sample of this in a subscription box and started keeping it in my purse for on-the-go touchups. But I started using it more regularly after I forgot mascara one day and used it in my car (AT A STOPLIGHT) and I was like, "Whoa. This is awesome." And then I started using it daily at stoplights. And I realized I should probably just order some and keep it in my bathroom so I can use it outside of my car. It gives my lashes a lot of volume and length and it's super black. This is worth checking out, friends. Car application not required.
Colourpop Super Shock Shadow ($5): I have this in almost every color, but my absolute favorites are: Nillionaire, On the Rocks and Moonshine. Beauty bloggers rarely hit pan with eyeshadows but I have found that I am going to have to buy more of these three colors. I use these regularly because they are pretty neutrals but super shimmery. My daily routine is that I'll use On the Rocks on the lid, some Moonshine in the outer corners/crease and then a little Nillionaire in the middle.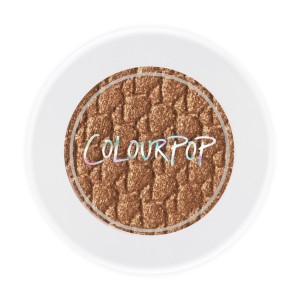 Julep Lip Gloss in Posh ($20): I have bought four of these in the past year. Four. It looks dark in the tube but it's that really flattering light berry color that made Clinique's Black Honey such a universal hit. I just happen to love the gloss version more than the Clinique Almost Lipstick.
Tools:
beautyblender ($20): Loving the Beautyblender is nothing new. It's just really the best makeup sponge out there with literally no duplicates. Friends of mine have doubted me (I'M LOOKING AT YOU, JILL) but there is no comparison. You use it damp (not wet) and it just blends everything seamlessly.
blendercleanser solid ($16): You gotta keep your Beautyblender clean! I use the solid and I am unclear but I am pretty sure this will last forever. I've used it a lot and you can barely tell.
Sonya Kashuk Limited Edition Makeup Brushes: So I was super into this limited edition Sonya Kashuk set which is now sold out (except for the really ridiculously overpriced one available in the link) because I thought they would look really pretty on my vanity (they do) but I was surprised that I actually reached for them more than any other. So if you are looking to up your brush game, look no further than Target. She frequently puts out awesome (pretty) sets and I suggest you pick up one. You won't regret it.
Hair:
Pureology Hydrate Shampoo ($27.50): Long story short: I've never really invested in expensive shampoo. I thought maybe it was a waste of money and I never wanted money to literally wash down the drain. But at the end of last year, I decided to start doing things a little differently. I thought, "Hey… I spend a lot of money dyeing my hair. Shouldn't I try to treat it better?" So I did some research and though expensive, I've heard this is The Best. So I'll keep y'all posted about how my hair holds up.
Pureology Hydrate Conditioner ($29.50): Similar story as above. I don't use as much conditioner as I do shampoo so I'm hoping I can make this bottle last a very long time.
Big Sexy Hair Big Altitude Bodifying Blow Dry Mousse ($11.91): I am very new to using many products in my hair so it's entirely possible this list will look very different next year. But right now I am big into the Big Sexy line since I'm always looking for volume. This stuff definitely gives me the volume I'm looking for as I am learning how to round brush my hair.
Not Your Mother's Clean Freak Dry Shampoo ($5.99): Are y'all tired of me raving about this dry shampoo yet? It's totes my fave. I just love it. Someone with dark hair needs to tell me if it works on them, but I just love the volume it gives me. And it soaks up oil like it's supposed to. It makes hair a little matte but I like that. What are some of y'all's favorites?
Oribe Dry Texturizing Spray ($44): Ugh, I love to hate the price of this stuff but I just LOVE THIS SO MUCH. I haven't yet found a duplicate that works as well so this is where we stand. (However, they sell this in the Birchbox shop, so I use my points to make the price less painful to me.)
So what did you think? Did any of your favorites make it in here? Know anything I should try this year? Let me know in the comments! Thanks for reading!
xo,
Lauren